Our therapy dogs, cats, birds, horses, and pigs provide the encouragement that kids need; especially children with special needs who are not engaging, complying, or progressing in a traditional therapy session. 
We help children achieve their individual therapy goals by working with specially trained pets and partnering with clinics and schools.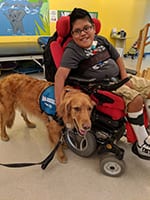 Improves:
Motor Skills
Verbal Communication
Executive Function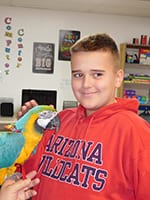 Increases:
Social Skills
Focus
Self-Esteem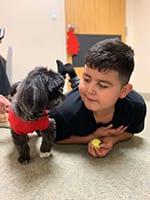 Decreases:
Anxiety
Negative Behavior
Impulsive Behavior
A WORD FROM OUR FOUNDER
When working with my son, who was diagnosed on the Autism spectrum, I was
Stunned that he started thriving when doing his therapy exercises with our dog, Zoe, a French Bulldog.
With Zoe by his side, he started achieving therapy goals like never before. Pet therapy then became my passion as I realized it was a tool to help my child succeed
I realized that if my child can smile, enjoy therapy, and build his confidence – all with the help of a pet –  that there must be other mothers and fathers who would love for their child to be given that same opportunity
-Tosha Tharp, Founder, Pawsitive Friendships
Get Involved
It is my desire to provide an avenue for individuals to help others in such a way that not only is the recipient grateful, but the volunteer is grateful for the experience. When I founded Pawsitive Friendships in 2014, I knew I could not be master of ALL. I began to reach out to individuals for assistance. Since then, I have been very blessed to have so many people willing to offer their expertise and time to our organization. Not every volunteer is a Pet Therapy Team and not every volunteer is seen, but EVERY volunteer plays an important role in making our organization successful.
Consider volunteering . . . you never know how much of an impact you can make!
Tosha
No Events on The List at This Time